While energy generally accounts for a small percentage of the overall operational cost of retail stores, energy efficiency initiatives can directly increase margins. Research by the non-profit organization 'The Carbon Trust' shows that a 20% reduction in retail store energy costs has the same impact on the bottom line as a 5% increase in sales; and while the increase in sales may require a continuous effort, the reduction in energy consumption through technology interventions is permanent. This provides store managers with an incredible opportunity to improve profit margins, which can be achieved through energy-efficient lighting and IoT technologies that can be easily integrated with the store's electrical equipment.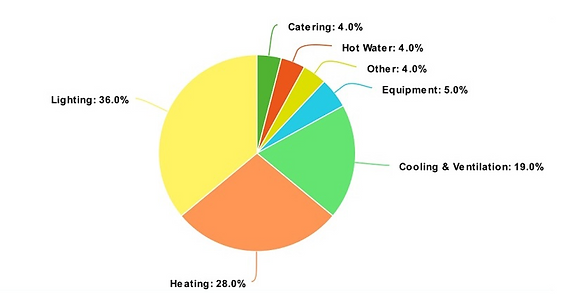 Figure 1. Typical breakdown of energy usage in an
average retail environment. (Source: The Carbon Trust)
Retail stores use the most energy in lighting, heating, ventilation, air conditioning, and refrigeration. Emerging IoT technologies that can be used to target these key energy-saving opportunities and transition into a smarter facility include:
Wireless Smart Meters – Smart meters can provide granular insights into the energy parameter and early fault detection for all electrical equipment in the store, such as lighting, HVAC systems, and kitchen equipment. Along with a comparative analysis of energy consumption across all stores, facility managers can remotely control equipment to conserve energy based on consumption patterns and store traffic.
Smart Lighting – Designed to save energy and money, motion sensor lights control the operations and intensity of lighting systems based on motion and store occupancy. Store managers can access a birds-eye view of the lighting in all their stores and enable notifications for faster fault detection.

Smart Aircon – Smart aircon technologies that enable remote monitoring and control of your air conditioners' operations can provide savings of over 20% on AC energy bills. Emerging IoT-based sensors and air purifiers are also enabling managers to monitor indoor air quality including PM2.5, PM10, total volatile organic compounds (TVOCs) and CO2 levels to ensure a healthy indoor environment.

Smart Refrigeration – Refrigeration technologies enable remote monitoring of a refrigerator's temperature and can provide up to 10% of savings on refrigeration energy bills through informed decision making. Furthermore, temperature is often key to ensure the quality of products such as food & beverages and medicine. Remote temperature control can, therefore, increase the lifecycle of products and minimize costs from supply waste and mass product replacement.

Smart Water Monitoring – Water monitoring technologies enable store managers to monitor the pH, hardness, and temperature of water as well as receive notifications to clean the water or add chemicals. These can be integrated with the energy meters to reliable data collection on the energy costs of your water heating and cooling requirements.
These technologies enhance customers' experience while enabling store managers to have greater control over their operations. Our work with retail stores has highlighted 3 important ways of how IoT technologies can provide stores with a competitive business edge:
Prioritization of facility operations and equipment maintenance through data-driven insights and alerts.

Monitoring and control of all retail stores remotely through easy-to-use apps;

Reduced operational cost and time through technologies that save energy and decrease reliance on manual labor.
Monetary benefits from savings are also no longer the only reason why retail stores should look at energy efficiency as a business strategy. As customers become increasingly aware of environmental issues, energy savings initiatives allow retail stores to enhance their corporate brand and stand out to green consumers as an obvious choice to increase sales and business. According to a Nielsen survey, 9 out of 10 millennials would switch their consumption habits and brands to one associated with a cause. As millennials begin to make up a bigger sector of the total workforce and purchasing population, communicating a retail chain's sustainability initiatives could be a make or break decision for the business.
Good energy management and operational efficiency is not just better for the environment but can achieve cost savings, a healthier and more productive environment for employees and customers, and an enhanced corporate image. At the heart of implementing solutions lies the responsibility and commitment of the retail staff to turn energy efficiency as a business strategy. Therefore, it is important to equip company management and retail store staff on how to identify energy-saving opportunities and the various solutions in the market to achieve energy targets.
What technologies has your store taken to be more sustainable?