Singapore has committed to peak emissions entirely by 2030 and to reduce Emissions Intensity (EI) by 36% from the 2005 base levels. Land constraints, intermittent sunshine due to cloud cover, and urban shading result in few alternative energy options for the city-state. Energy efficiency has therefore emerged as a core strategy to meet Singapore's emission targets over the next decade.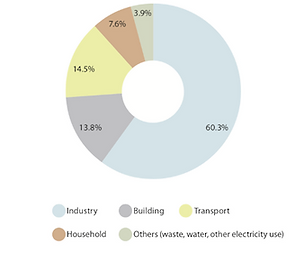 Figure 1: Singapore's projected 2020 BAU emissions.
(Source: ICF International)
The industry sector is the second largest energy-consuming sector in Singapore and is expected to account for over 60% of the city-state's projected 2020 greenhouse gas (GHG) emissions. It does, however, also represent the largest potential for emissions reduction through energy savings: the nation's Industry Energy Efficiency Roadmap has identified new technologies and best practices that can provide industrial energy savings of up to 18.8% by 2030, which translates to about 20.4% of emissions reductions from the industry sector alone.
To meet the energy savings potential, various government agencies provide fiscal and other policy packages that can accelerate the adoption of energy efficiency practices by companies.   Read more about eight public sector incentives that firms in Singapore can leverage to kickstart their energy efficiency journey:
1. Energy Efficiency Fund (E2F)
Led by the National Environment Agency (NEA), E2F provides up to 50% co-funding for projects in the areas of resource-efficient design of new facilities, energy assessments, energy-efficient technology adoption, and the implementation of energy management information systems. The fund has achieved great success with past enterprise participants achieving at least 90% of estimated annual energy savings.
2. Resource Efficiency Grant for Energy (REG(E))
The Economic Development Board (EDB) is working with third-party financier Sustainable Development Capital (Asia) Limited (SDCL Asia) that can provide 100% of the upfront capital investment required for energy efficiency projects. In a savings-sharing model, energy savings from the project will then be shared with project stakeholders.
3. Green Mark Incentive Scheme for Existing Buildings (GMIS-EB)
Cash incentives of up to $3 million for developers and/or building owners for upgrading and retrofitting of energy-efficient equipment in existing buildings.
4. Green Mark Incentive Scheme for Existing Buildings and Premises (GMIS-EBP)
Cash incentives of up to 50% of the qualifying costs for building owners and tenants to undertake Energy Improvement Works involving the installation of energy-efficient equipment. The scheme particularly targets SMEs in existing private commercial and business parks' buildings, NGO facilities, and tenanted premises such as offices and restaurants.
5. Pilot Building Retrofit Energy Efficiency Financing (BREEF)
A loan of up to $4 million or 90% of total retrofit costs to cover the upfront cost of energy efficiency retrofits of existing buildings through an energy performance contract arrangement. Applicants obtain financing through Participating Financial Institutions and pay off the loan through the resulting energy savings.
6. Green Buildings Innovation Cluster Building Energy Efficient Demonstrations Scheme (GBIC-Demo)
Up to $3 million or 70% of the qualifying cost for projects that strive for greater energy savings by demonstrative innovative energy efficiency technologies that have not been widely implemented locally.
7. Singapore Certified Energy Manager (SCEM) Training Grant:
A co-funding scheme for engineers/managers of manufacturing facilities and buildings to develop local expertise and capability in professional energy management. The Grant co-funds part of the SCEM training cost at the Professional Level. Organizations can use this grant to train employees overlooking the energy management of their organization.
8. Energy Efficiency National Partnership (EENP):
A voluntary partnership program by the National Environment Agency (NEA) for companies that wish to enhance their business competitiveness and reduce their carbon footprint through energy efficiency. The EENP provides partner companies with government incentive schemes, networking, opportunities to participate in benchmarking studies by government agencies, best practices and toolkits, and national recognition awards for their achievements in energy efficiency.
Get in touch with us to learn more about how your firm can apply for and benefit from these incentives to achieve energy savings targets.